Recently minted social work PhD Jaih Craddock is leveraging artificial intelligence to optimize HIV prevention strategies targeting at-risk youth and young black women.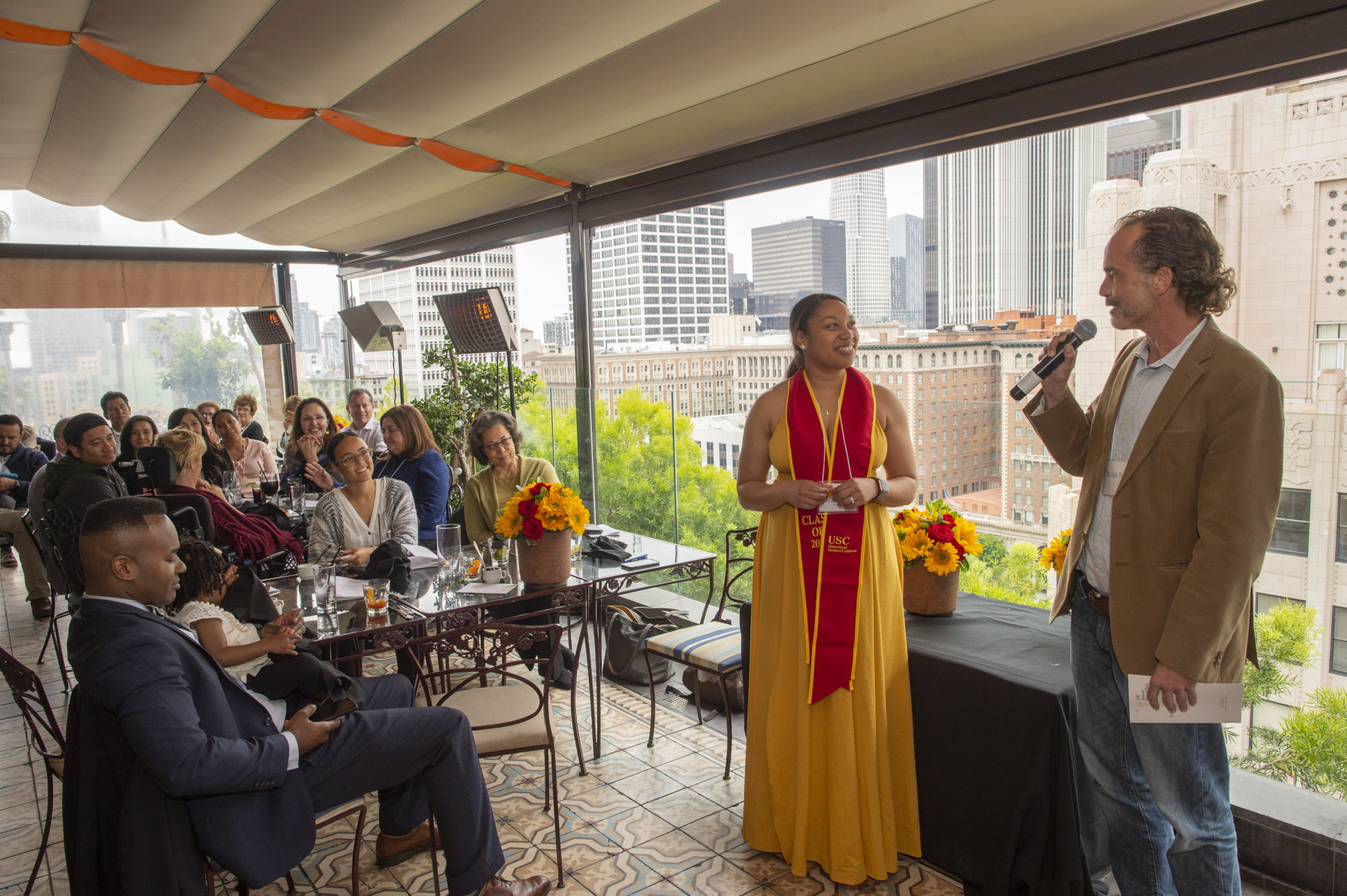 Dr. Jaih Craddock with her PhD advisor Dr. Eric Rice.
According to the Centers for Disease Control and Prevention (CDC), approximately 1.1 million people over the age of 12 are living with HIV in the United States. Unfortunately, some populations are disproportionately affected by HIV. In 2016, African American women accounted for 60 percent of HIV diagnoses among U.S. women—a rate 15 times higher than that experienced by white women.
Fighting the unequitable dispersion of the disease is critical to protecting youth in particular, who have the least probability of receiving timely care and successfully suppressing their viral load. Compounding these disparities is the dearth of access to adequate health information—today, only 41 percent of schools are required to educate students on HIV prevention, leading to widespread misinformation about sexual health among youth.
Jaih Craddock, MSW '15 and recent PhD recipient at the USC Suzanne Dworak-Peck School of Social Work, is tackling the crisis head-on in her graduate research, which is centered upon prevention-focused HIV interventions in minority communities. Specifically, Craddock's work focuses on leveraging the social networks of young black women and homeless youth at disproportionate risk of HIV infection in order to develop sexual health interventions deployed with the help of artificial intelligence.
Craddock recently opened up about how the USC Center for Artificial Intelligence in Society (CAIS) has augmented her research and prepared her to continue developing effective HIV prevention strategies for at-risk youth after completing her PhD.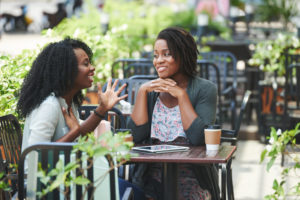 USC Center for Artificial Intelligence in Society: What factors contributed to your interest in HIV prevention work?
Jaih Craddock: After completing my undergraduate degree at San Francisco State University (SFSU), I participated in a research program funded by National Institutes of Health specifically for minority students in pursuit of research careers.
This program enabled me to pursue a master's degree in sexual studies at SFSU, where I conducted research on adolescent sexuality and sexual risk-taking behavior, focusing on the effect both mass media and social media have on youths' sexual decisions.
During this time, I recognized a gap in the existing clinical literature: there were very few studies that extensively investigated the impact of HIV on black women.
In an effort to begin bridging this gap, my master's thesis was a qualitative study analyzing the experiences of HIV-positive black women. Through many interviews, I gathered data regarding their lives pre- and post-diagnosis, their respective treatment experiences, the disease's impact on their lives, and whether or not there were unique risk factors that predisposed them to HIV.
USC CAIS: What is some of the most interesting research you have done during your time at USC?
JC: I came to USC for a dual-degree graduate program—the completion of my MSW overlapping with my early doctoral coursework. Throughout my time at USC, I have researched how to optimize the diffusion of preventative medical information using the social networks of youth populations at risk of HIV infection. In particular, I have focused on homeless adolescents and young black women, who are at increased risk of contracting HIV.
Part of my research involved partnering with social work Associate Professor Eric Rice to conduct a USC CAIS project on influence maximization in homeless youth networks using youths' pre-existing social connections to raise awareness about HIV and promote safer sexual behaviors. By identifying the peers best-positioned to spread critical health information, our algorithm optimizes the delivery of prevention-focused intervention work by strategically allocating the limited resources that sexual health clinics and homelessness outreach organizations have at their disposal.
I have also collaborated with computer science students to assess which mode of communication is most effective in disseminating sexual health information to young black women. Our algorithm found that the form of communication most effective at promoting safe sex behaviors and spreading critical health information was actually a combination of all modes—in-person contact, text messaging and interacting on social media.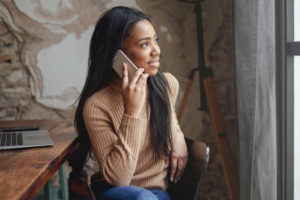 USC CAIS: What is the focus of your PhD dissertation?
JC: For my dissertation, I conducted my own research to understand the ways in which young black women communicate about sexual health, their attitudes toward various risky sexual behaviors and how the structure of their social networks impacts their implementation of HIV prevention strategies.
These studies capitalize on respondent-driven sampling to reach a hard-to-engage population and examine their social network relationships. This data collection includes assessment of birth control use rates as well as participants' willingness to participate in STI testing and expressed interest in PrEP (pre-exposure prophylaxis), a medicine proven to decrease the probability of contracting HIV.
USC CAIS: What are your post-graduation plans and what advice would you offer to others interested in pursuing a PhD in social work?
JC: I've accepted a position as an assistant professor of social work at the University of Maryland, Baltimore, and I plan to focus my research on continuing to develop sexual health interventions for at-risk youth.
Drawing from my own experience, I would encourage prospective PhD students and anyone interested in developing public health interventions to think outside of the box. Each discipline has its own set of methodologies and ideological constructs, which can create a false sense of limitation or necessity to operate solely within the set boundaries of one's field. However, all of us should feel empowered to explore other intellectual domains and establish meaningful collaborations across disciplines to develop more holistic and effective approaches to solving the world's most pressing social issues.
Reaching outside of my own comfort zone and area of expertise, for instance, allowed me to approach HIV prevention research from a joint social work and computer science standpoint, which ultimately enabled me to develop more innovative and more highly effective approaches to intervention. That's the power of interdisciplinary social work.