PhD candidate Chyna Hill shares how her experiences with adversity have shaped her social work career.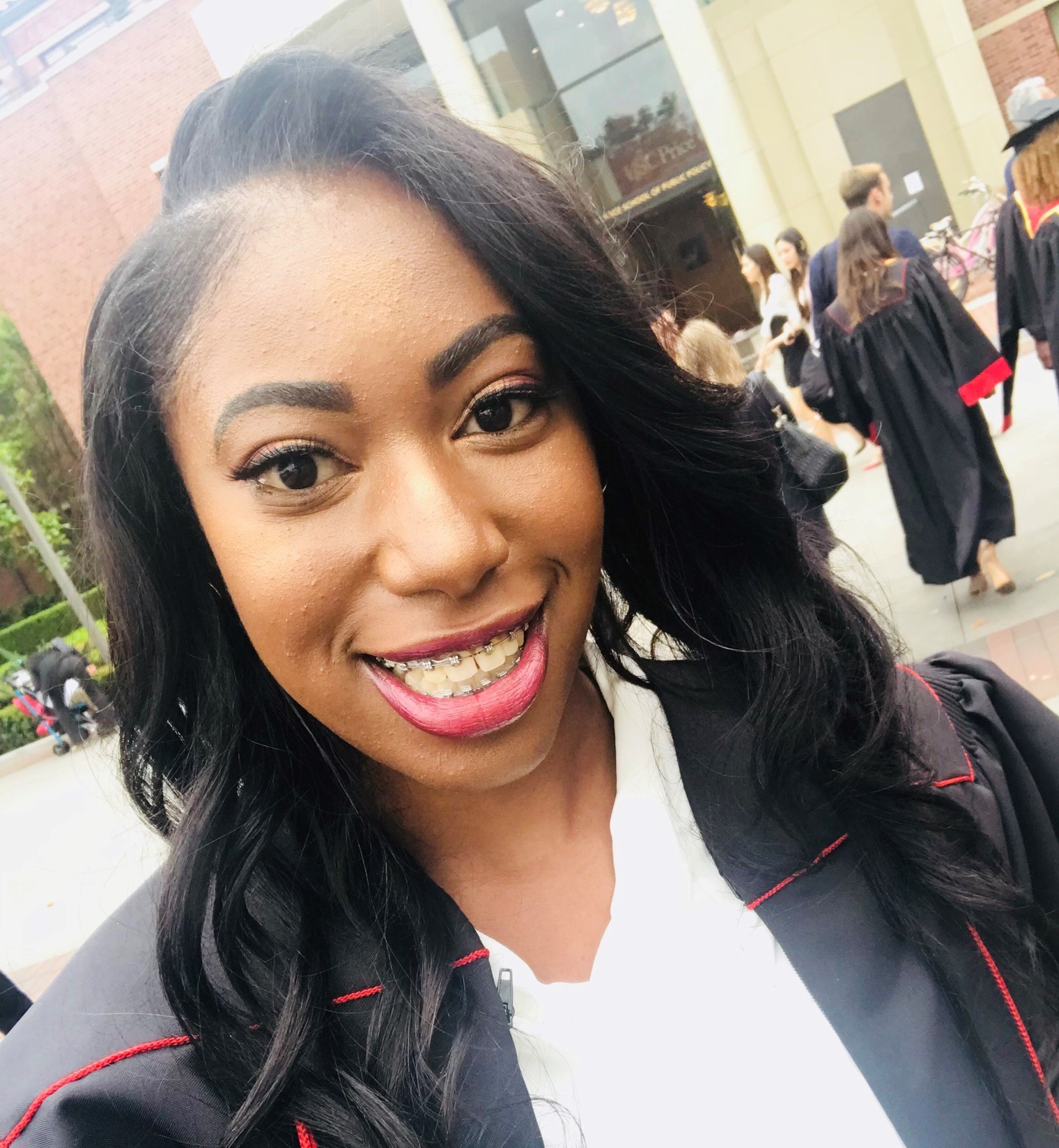 Fourth year social work PhD candidate Chyna Hill
According to the 2018 Annual Homeless Assessment Report to Congress, African Americans account for 13 percent of the total population of the United States, yet comprise 51 percent of all families experiencing homelessness. In fact, African American youth are 83 percent more likely to experience homelessness compared to their non-Black peers. 
Chyna Hill, a first-generation college student and current PhD candidate at the USC Suzanne Dworak-Peck School of Social Work, is no stranger to the impact of these racial disparities. Growing up in a rural community plagued by poverty and familial obligations, the threat of homelessness loomed as a very real possibility throughout much of her life. 
Hill recently shared how these experiences have shaped her research on disparities in service use among Black youth experiencing homelessness—and why she believes that systemic investigations rather than individual assessments independent of systemic influences are the cornerstones of change. 
USC CAIS: What influenced your decision to pursue a career in social work, particularly one examining racial disparities?
Chyna Hill: As a Black woman raised in the south, I've always been aware of racial disparities and particularly how these disparities are exacerbated at the intersection of race and gender. I grew up in a place where confederate flags were normalized and there were businesses I knew I couldn't patronize; a place where all the Black kids sat together in the cafeteria and were suspended simultaneously. My mom became a single mother as a teenager, so I learned very early that, in order for there to be a home, she had to be away from home. As a result, I was raised by my great grandparents who, biologically speaking, had no children of their own. Yet they took so many of us in and, despite their third-grade education and the fact that our land was mockingly the same land that my great grandfather's parents were sharecroppers on, I saw them find—or create—a way to make it all work every single day.   
When strokes, severe osteoporosis, and the death of my great grandfather completely stripped my great grandmother of her mobility, I became a full-time caregiver. I was only 12 years old. I didn't have a name for it then, but my interest in social work emerged during my childhood. This is how my story starts. I didn't have the tools to unpack it then, but searching for them ultimately led me to USC.
USC CAIS: Can you outline the focus of your research and the overarching goals of this work?
CH: At the USC Center for Artificial Intelligence (CAIS), I leverage machine learning to explore the role of race on service use and service needs among Black youth experiencing homelessness.  Although a variety of factors have been associated with service use, race has become particularly salient because of the prevalence of Black youth experiencing homelessness and the unique trajectories of Black youth into homelessness from systems such as foster care and juvenile justice, both of which disproportionately impact Black youth. 
My current research suggests that marginalization, as it relates to race, is dynamic, contextual and systematic. I leverage Classification and Regression Tree (CART) analyses within my work. Unlike traditional logistic regression analyses, which illustrate statistically-significant associations, CART analyses allow for the testing of both linear and non-linear relationships, ultimately enabling the ranking of variables by order of importance. I plan to continue pursuing this research in my dissertation, leveraging three unique datasets in order to identify predictors of service use among Black youth experiencing homelessness.
For me, social work is about social justice. My overarching mission is to conduct research that helps enact systemic change for people within my community—especially those who have grown up or are growing up in adverse conditions like the ones I experienced. 
USC CAIS: You've accomplished a lot during your time thus far at USC. What have been some of the highlights?
CH: I began working with homeless youth near the end of my second year as a PhD student, and it has been one of the defining experiences of my time at USC thus far. 
I have always loved working with youth—particularly youth who have been displaced via homelessness, foster care or incarceration. My work in local drop-in centers is what inspired me to pursue machine learning in the first place, as I wanted to develop more effective means of addressing the needs of these youth.
I also found this experience meaningful because I relate to these youth so much. I've always had a nuanced understanding of the term "home"—I know it may carry any number of meanings depending on whom you ask. When you live in poverty, home is not usually a single place—it's wherever your network of family and friends may reside. It may be a car, a trailer, a hospital or any place where others are willing to share their space and resources. When I began working with homeless youth, the majority of whom were Black, I felt at home. I've experienced many of the struggles that they are enduring, and I recognized myself in them. This work provided me with a sense of community, which not only fulfilled me personally, but also inspired my research into racial disparities. 
USC CAIS: What do you hope to accomplish after earning your PhD?
CH:  As a Black woman, I feel like so many things have been decided for me because of contextual and circumstantial factors that accompany the reality of growing up poor, growing up as a person of color, and growing up as a first-generation college student. School is, and has always been, a way out—out of foster care, out of juvenile justice, out of my hometown. I am looking forward to living a life I don't have to heal from, one where going to school is an option, but no longer the only one. 
During my time at USC, I have figured out that I'm good at so many other things, things I may have figured out earlier if the opportunities were there. So often, kids of color who reside in rural and/or impoverished communities are deprived of the time, resources, and energy to explore their interests. When I decided to attend USC, my mom had just left her job and, even with both of mine, I could not afford to move to California. My great grandmother, who was in her 90s, said, "I have just enough money to bury me with but you take it." I'll never forget that. Ironically, until USC, education was the only thing anyone was ever willing to invest in on my behalf. 
There are parts of academia that I love, but there is also a lot of neutrality in academia. There's nothing neutral about my work. When you aspire to sit at tables that you weren't genuinely invited to in the first place—tables where you have to bring your own chair, squeeze in between folks, and repeatedly convince others why your work matters—it's exhausting. Social Justice is the foundation of my life and ultimately, the foundation of my work. While I haven't yet decided exactly what path I'd like to take, I'm certain it will be in and for my community.