Transdisciplinary research team led by USC professors will help Los Angeles reduce bias and disparity in homelessness services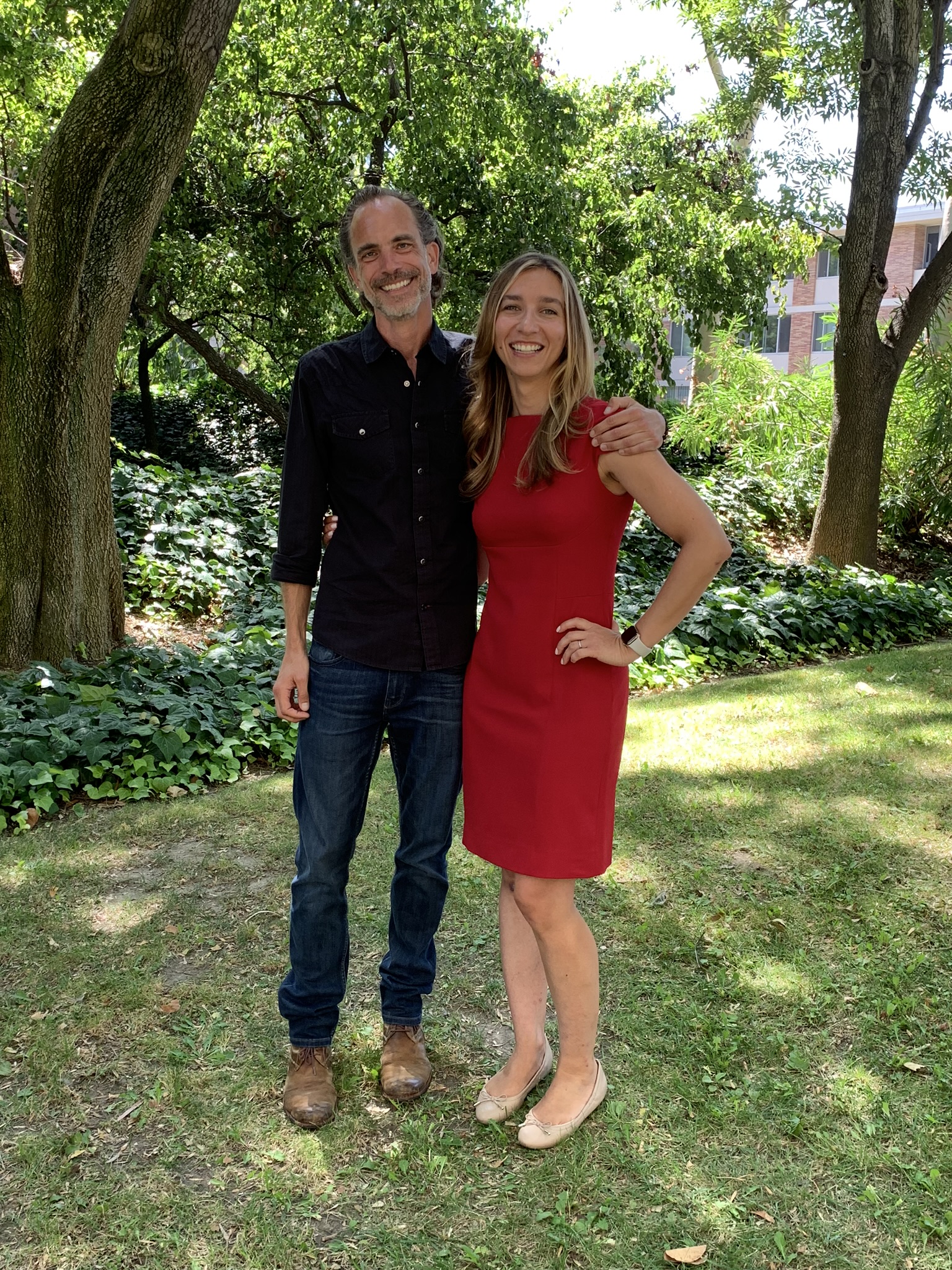 Eric Rice and Phebe Vayanos are leading the USC team on the CESTTRR project looking at the tools and tool administration used for housing and homelessness services in LA County. A focus will be on racial bias and equity.
The link between systemic racism and homelessness is clear, not just to researchers and officials who have acknowledged the problem, but also to anyone walking or driving along Los Angeles's sidewalks or parks. Now, thanks to a $1.5 million grant, researchers with the USC Center for Artificial Intelligence in Society (CAIS)—a collaboration between the USC Suzanne Dworak-Peck School of Social Work and the USC Viterbi School of Engineering,  are working to find ways to make it easier and faster to help people experiencing homelessness to obtain housing and ensure equity across the system.
USC CAIS co-founder and director Eric Rice, associate professor at the USC Suzanne Dworak-Peck School of Social Work, leads the transdisciplinary team of 15 researchers that has been awarded the grant to examine and enhance the tools and processes used by Los Angeles' homeless services system.
"Homelessness in Los Angeles is a huge problem that shows no signs of easing up," Rice said. Racial inequities add significant challenges to existing systems in ensuring that people of color receive the support they need to successfully transition out of homelessness.
Numbers tell the story: In Los Angeles County, African Americans are 8% of the population, but 34% of its homeless population, according to the homeless count report released in June 2020 by the Los Angeles Homeless Services Authority (LAHSA). "We also see that Black individuals disproportionately return to homelessness," Rice said.
Finding and fixing systemic issues of bias
The new multi-year research project stems from LAHSA's desire to improve and enhance its existing systems used to collect information and provide services and housing to people experiencing homelessness. The project builds on provider and client feedback and experience, early research, as well as recommendations from LAHSA's Ad Hoc Committee on Women and Ad Hoc Committee on Black People Experiencing Homelessness. The findings of those two committees highlighted issues of disparity and underscored a critical need to evaluate the triage tools used by LAHSA's Coordinated Entry System (CES) with respect to bias and equity.
In particular, the groundbreaking work of the Ad Hoc Committee on Black People Experiencing Homelessness is significant because it demonstrated LAHSA's willingness to look deeply at its own systems and processes to tackle the most difficult issues, Rice said.
The CES Triage Tool Research and Refinement Project (CESTTRR) will take a deep and thoughtful look into the questions asked, the process used, and the data collected and analyzed by the system and its users. In addition to the USC CAIS researchers from the USC Suzanne Dworak-Peck School of Social Work and the USC Viterbi School of Engineering, the transdisciplinary team includes members from California Policy Lab, UCLA Department of Psychiatry and Biobehavioral Sciences: Division of Population Behavioral Health, Lens Co. and the University of Missouri.
The research team brings together computer and social work scientists with community organizations and those with lived experiences to study the tools' accuracy, systemic bias, equity and inclusion using transdisciplinary approaches.
For Phebe Vayanos, lead of the USC Data Science team for the CESTTRR project and USC CAIS associate director and assistant professor at USC Viterbi in Industrial & Systems Engineering and Computer Science, the project is an opportunity to continue the collaborative work she and Rice have been doing for the past few years using artificial intelligence to help with housing allocation for those experiencing homelessness.
Vayanos recalls the earliest days of the project, when Rice first approached her about how she might help develop computer algorithms to solve housing allocation problems. "He was most excited about the machine learning aspect," Vayanos said. She was interested but also had other ideas about how artificial intelligence could be used to take the work further.
At USC, Vayanos and Rice had been working on conceptual models for reducing racial bias in how housing resources were allocated since 2017. Their work had resulted in a few academic papers, including one on linking homelessness vulnerability assessments to housing placements and outcomes for youth which was published in Cityscape (a publication of the Office of Policy Development and Research of the U.S. Department of Housing and Urban Development) in November 2018.
"We have to be very thoughtful about these types of systems and what we want to get out of them," Vayanos said. This means not only trying to incorporate fairness into the system, but also to think about what fairness really means.
"We're using very interdisciplinary techniques to make sure that compassion and human value judgments are integrated into the system," Vayanos said.
For her, using mathematics and computing for social good is the perfect combination of her passions. "To receive this grant is validation that LAHSA and its funding partners believe our work can make a real impact," she said.
Rooting services in racial equity
Heidi Marston, LAHSA executive director, calls homelessness in Los Angeles County a daily crisis.
"We have to respond to it with daily urgency while we redesign this institution to be strong and flexible enough to deliver that response at the scale of need," Marston said. To do this, she cites the need for world-class data systems, strategies and actions rooted in racial equity, and constant flexibility in LAHSA's approach and partnerships. "We need to do it all while keeping in our hearts the humanity and vulnerability of every person we serve," she added.
In 2019, LAHSA began an intensive effort to improve CES. Part of the aim was to address concerns heard from providers who wanted better ways to identify deeper and complex vulnerabilities such as aging, domestic violence and HIV/AIDS. This feedback dovetailed with recommendations from the Ad Hoc Committee on Black People Experiencing Homelessness to evaluate the tool and improve it to remove potential racial bias in its content and use.
Funding for the CESTTRR research project comes via philanthropic funding from the Conrad N. Hilton Foundation and the Home for Good Funders Collaborative, with additional support anticipated through Measure H funds dedicated to implementing the recommendations of the Ad Hoc Committee on Black People Experiencing Homelessness. Input was sought from community stakeholder groups such as the Home for Good Policy and Partners, Lived Experience Advisory Board, Homeless Youth Forum of Los Angeles and CES Policy Council, which led to the request for research partnership awarded to the transdisciplinary team led by Rice.
The community partnerships give Rice a lot of confidence that the team will be able to achieve its goal of making the housing and services allocation system more efficient and also more equitable.
"LAHSA has been very thoughtful about how race and systemic racism impacts housing in Los Angeles," Rice said. "I can't think of another city that has brought in computer scientists and social workers to help them do this kind of work in such a rigorous way."
"We were already invested in finding a solution," Rice said.
When LAHSA issued its request for a research proposal in November 2019, the USC CAIS team with their research partners quickly put together their submission, building on the two years of work they had already done. LAHSA and its funding partners cited their "very deep local knowledge and diverse expertise balancing quantitative and qualitative analysis with community-based approaches" as key to their success in winning the grant funding.
New reality of homelessness with COVID-19
With COVID-19, a tremendous shift had occurred as California cities and counties began to address the spread of the virus.
For Laura Onasch-Vera, MSW '17, who serves as project administrator, the new reality of homelessness amid a health pandemic added a layer of complexity and urgency to the research project. LAHSA, in partnership with the city and county, sheltered over 6,000 people in just a few months in response to the COVID-19 crisis. The emergency response opened a path for new thinking about how a better safety net might be designed. The pandemic also exposed another symptom of systemic racism: the fact that in Los Angeles County, Black people were dying of COVID-19 at twice the rate of white people.
"The original aims of the research project are critical, but with COVID-19, solving those racial inequities is more important than ever," Onasch-Vera said. There are many societal and structural factors that contribute to racial disparities, and she is excited to be able to work on a research project aimed at addressing at least one part of it — ensuring fair and equitable housing and services for those in any underserved group experiencing homelessness.
Underscoring the importance of the work, Rice cited a sobering analysis by a Columbia University economist who projects a 20% rise in homelessness in California in 2020, and a potential 40% to 45% increase nationwide, from economic fallout related to the coronavirus pandemic.
Real world results expected
The COVID-19 health emergency and weeks of social unrest across the country related to police brutality have shined a light on the deep inequalities between white and Black America, making the results of this research project more relevant and timely than ever. Fixing these issues is not something that can be done overnight, Rice said, noting that USC CAIS and LAHSA had been doing preliminary studies and work on ways to reduce racial bias in the housing system for three years.
Rice anticipates that the end result will be a set of tools for LAHSA and others to use that are sensitive to issues of bias associated with race, gender, age, and sexuality. These tools will explicitly address inequality both in terms of access to services and housing, and in successful outcomes.
"It's not a pipe dream to hope and expect that we will meaningfully improve the lives of people with this project," Rice said. "By collaborating with community partners who can deploy these systems, we will more effectively place thousands of people in housing each year."